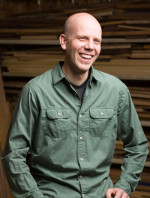 I'm Jesse, the programmer, woodworker, father, husband, and family man behind this site.
Currently my wife and I live with our six children in north-central Wisconsin on a dead-end road, overlooking James Lake. We consider ourselves fortunate to work in an industry (web engineering) where we are free to live in such a beautifully remote place!
Since the start of 2015 I've served on the team at Zaengle where I started as a back-end engineer. Currently I am the lead programmer, overseeing the technical aspect of our projects as well as mentoring newer developers. Our team focuses on custom PHP (Laravel) and JavaScript (VueJS) applications.
I'm fascinated with the process of learning and explore a variety of avenues to quench the thirst of curiosity.
Got a question? Want to say hello?